PART 1
Did you know?
1. The FDA did not approve Moderna or Pfizer mRNA gene therapeutics they dubbed "vaccines". It simply authorized them. Fauci confirms. And Pfizer erroneously states that the vaccine may prevent you from getting COVID-19. As we know by now, the Pfizer jab prevents neither infection nor transmission. Also, let's underscore that pregnant and breastfeeding women are not to be vaccinated.
The Clinical Trials are currently underway and won't end until October 27, 2022 for Moderna, and July 30, 2023 for Pfizer. Humans are the guinea pigs.
Pfizer makes the case that during an ongoing clinical trial (the one we are currently in) its vaccine has been shown to prevent COVID-19 following 2 doses. Again, such assertions are key in proving not only fraud but crimes against humanity.
None of the 20+ severe effects of a COVID-19 Jab, as discussed in an October 2020 FDA-CDC meeting are mentioned in the Pfizer Fact Sheet.
Pfizer erroneously states its jab cannot give you COVID-19, when in reality – as we shall establish – the messenger RNA programs your cells to produce the pathogen in the form of the Spike Protein, the very pathogen it is supposed to shield you from.
The Australian government uses the term poison in reference to the vaccines. Its military stresses it.
The National Vaccine Information Center came down hard on the Federal Government with regards to DC Vaccine Concealment Law and Child Vaccinations.
The FDA & CDC have not revealed to the public over 20 adverse events discussed in a October 2020 meeting, including Death, related to Covid-19 injections. See pg. 16 of document.
The CDC acknowledges that 94.9% of Covid-19 hospitalizations between March/20 and March/21 had at least one pre-existing condition. The Israeli National News puts that figure at 99%.
A snapshot
Even the prestigious NIH confirms, unequivocally, that:
A. "Patient comprehension is a critical part of meeting medical ethics standards of informed consent in study designs"
and
B. "COVID-19 vaccines designed to elicit neutralizing antibodies may sensitize vaccine recipients to more severe disease than if they were not vaccinated."
and
"that vaccines designed empirically using the traditional approach (consisting of the unmodified or minimally modified coronavirus viral spike to elicit neutralizing antibodies), be they composed of protein, viral vector, DNA or RNA and irrespective of delivery method, may worsen COVID-19 disease via antibody-dependent enhancement (ADE). This risk is sufficiently obscured in clinical trial protocols and consent forms for ongoing COVID-19 vaccine trials that adequate patient comprehension of this risk is unlikely to occur, obviating truly informed consent by subjects in these trials." Note: The above study was conducted in March 2021.
Again, I'm going to piledrive some facts for you until they sink in: Failure to provide informed consent constitutes a crime against humanity, for which Nazi doctors were hung, and the reason for which new trials are needed. Nowhere in the Moderna or Pfizer EUA Fact Sheets do we find full disclosure.
Once more, for emphasis, here are the findings of the study
The issue of Absence of Safety Information on vaccines is underlined by Dr. Peter McCullough. He reiterates: "The chances of coming into contact with Covid is less than 1%."
Under 21 U.S. Code § 360bbb–3, which is the law governing the Emergency Use Authorizations of experimental vaccines, that statute requires the following before administration of a vaccine under an EUA:
Appropriate conditions designed to ensure that individuals to whom the product is administered are informed:
(I) that the Secretary has authorized the emergency use of the product;
(II) of the significant known and potential benefits and risks of such use, and of the extent to which such benefits and risks are unknown; and
(III) of the option to accept or refuse administration of the product, of the consequences, if any, of refusing administration of the product, and of the alternatives to the product that are available and of their benefits and risks.
2. From the newsdesk of MSN, researchers report that the Pfizer jab lowers your antibodies by a factor of 5-6.
NCBI reports of Animal Studies concluded:
– 2004. Spike Protein from experimental jab produced Hepatitis in ferrets.
– 2005. Spike Protein not only disarmed the antibodies in civets, but made invading viruses even more virulent.
And: Jabs against one strain might worsen infection with others. The prevailing mantra. This has been known since 2005.
The Pfizer & Moderna animal studies, if indeed they were held at all as they are never discussed, arrive at some concerning conclusions.
In 2012, the animal trials for mRNA jabs had to be stopped because the animals kept dying. The former President of the Association of American Physicians & Surgeons along with Molecular Biologist & Immunologist, Dolores Cahill, PhD, confirm animals died in previous mRNA animal studies.
It's their reputations against that of anonymous, unaccountable fact checkers paid to promote experimental mRNA jabs and Neil Ferguson-type lockdowns.
The current studies with humans show a catastrophic failure bordering on genocide. The numbers show Covid-19 jabs are at least 30 times deadlier than traditional vaccines.
Yet, they are being promoted as 'safe', and the FDA is expected to approve them, while Johns Hopkins concludes there are zero cases of healthy children under 18 dying from Covid.
And what's suspect about this timeline?
15-16 October 2019. In the Vaccine Safety Net Workshop, in preparation for IMMUNIZATION AGENDA 2030, conspicuously concealed, Microsoft, Pinterest, Google, YouTube, Facebook and academics were retained to:
"surface trustworthy, science based, high quality vaccine safety information in the digital sphere"
This is how they scrub their websites of any incriminating facts.
– In November 2019, the US warns Israel-NATO of outbreak in China
– On January 22-23/20, the WHO Director- General convened an Emergency Committee (EC) under the International Health Regulations (IHR 2005) to assess whether the outbreak constituted a public health emergency of international concern. The independent members from around the world could not reach a consensus based on the evidence available at the time. They asked to be reconvened within 10 days after receiving more information.
– According to Pfizer, their "vaccine" was developed on January 25/20, in a few hours. The fastest time on record to develop a vaccine; up until then, the fastest was 4 years.
– Effective January 27/20, HHS declared a public health emergencypursuant to section 319 of the PHS Act, 42 U.S.C. 247d
– March 10/20. HHS extends immunity from liability coverage through PREP & PAHPRA Acts to manufacturers and distributors of medical countermeasure products, preempting State statutes, but not the Nuremberg code.
– March 2/20. Pfizer promises to develop COVID vaccine in a press release.
– Jan. 20/21. Press Release: PFIZER AND BIONTECH PUBLISH RESULTS OF STUDY SHOWING COVID-19 VACCINE ELICITS ANTIBODIES THAT NEUTRALIZE PSEUDOVIRUS BEARING THE SARS-COV-2 U.K. STRAIN SPIKE PROTEIN IN CELL CULTURE.
Why test on a pseudovirus and not the virus itself? Maybe because the wild virus has not been isolated.
As Biden announces Surge Teams to fight Delta variants in hotspots, Fauci fails to explain that the Delta variant (dubbed B.1.617.2) is produced by the vaccinated. In other words, vaccinating the unvaccinated will only accelerate the spread of the Delta variant.
Variants vary by only .3% from the original virus, according to former Pfizer VP, Dr. Michael Yeadon and founder of DOCTORS FOR COVID ETHICS. Variants are inveriably attenuated, or less virulent versions of the original version, that is, they are less deadly. This is a well-established fact known to virologists and epidemiologists. But, if the original virus has not been isolated, then the issue of more virulent or attenuated variants is moot.
Yet, special COVID-19 envoy to India, Dr. David Nabarro, does not allude to that fact, but continues to peddle fear by suggesting a long line of variants Is expected to manifest that will exhaust the Greek (and maybe even Russian) alphabets.
Under #36, you will discover that the WHO's very own Global Preparedness Monitoring Board indicated that there was to be a release of two lethal pathogens by September 2020 – marked as "progress indicators". Pfizer President, Albert Bourla, a veterinarian, claims – falsely – the Pfizer shot has been approved worldwide, that new Covid cases are ever increasing, and that deaths and misery warrant people get vaccinate. But he conveniently excludes himself because he doesn't fit the profile and he doesn't want to cut in the line. The guy who is surrounded by his "vaccine" doesn't want to cut in the line.
Dr. Joseph Ladapo and Dr. Harvey Risch are medical professors at UCLA and Yale. In a WSJ article they write:
"Public-health authorities are making a mistake and risking the public's trust by not being forthcoming about the possibility of harm from certain vaccine side effects. There will be lasting consequences from mingling political partisanship and science during the management of a public-health crisis."
maybe you knew…
3. On May 26/21, a single death of a 37 yr-old woman prompted Belgium to halt the J&J jab for the under 41 yr olds, while the CDC stated it found a "plausible causal association" after identifying 28 cases among the more than 8.7 million people who had received the J&J vaccine
AstraZeneca was dropped by 24 countries, and by Ontario as of May 11/21. In July/21, conclusive evidence shows the risk of blood clotting is greater than the risk of Covid in the 18-39s.
Johnson & Johnson, a Viral Vector "injection" that was given Emergency Use Authorization on Feb. 27/21, was halted by several states due to the formation of blood clots.
But distribution resumed after a 10 day pause.
The CDC also confirms that Pfizer & Moderna jabs are the deadliest of all "vaccines". This video provides step-by-step navigation of the VAERS site.
In July/21, the CDC once again did a U-Turn. Fully vaccinated people suddenly needed to wear masks in most places. Masks convey danger. The more masks, the greater the danger is conveyed, and the more vaccines are sold.
According to the CDC's doctored numbers, which count healthy, asymptomatic people as cases if they tested positive, there have been 4 million COVID cases as of Aug. 11/21, and the survival rate is 99.9%. That means 3.996 million Americans don't need to wear masks. At the same time, there are 13 million Americans who have latent Tuberculosis, but they are not counted as cases nor are they required to wear masks.
The FDA would love to see you donate your blood plasma if you recovered from Covid. Yes, antibodies can do wonders for herd immunity.
And in Australia, why are vaccinated people being asked to quarantine? Because these jabs don't prevent infection or contamination.
4. Troubling information for vaccinated women's reproductive systems is emerging.
More troubling is the fact that while the CDC admits scientists are still learning how well vaccines prevent you from spreading the virus and how well they protect people, in a stunning about-face as of Aug. 11/21, the CDC now recommends the jabs for pregnant women:
That has to be the hallmark of the most liberal – bordering on satanic – view of mortality.
Dr. Peter McCullough underlines that adverse events from the "vaccine" are not recorded in this clinical trial for vaccinated pregnant women or women of childbearing age, or for the Covid-recovered.
In Moderna's synopsis of its clinical trials, it states under Inclusion Criteria:
"Female participants of non-childbearing potential may be enrolled in the study. Non-childbearing potential is defined as surgically sterile (history of bilateral tubal ligation, bilateral oophorectomy, hysterectomy) or postmenopausal (defined as amenorrhea for ≥12 consecutive months prior to Screening without an alternative medical cause). A follicle-stimulating hormone (FSH) level may be measured at the discretion of the Investigator to confirm postmenopausal status.
Female participants of childbearing potential may be enrolled in the study if the participant fulfills all the following criteria:
– Has a negative pregnancy test at Screening and on the day of the first dose (Day 1).
– Has practiced adequate contraception or has abstained from all activities that could result in pregnancy for at least 28 days prior to the first dose (Day 1).
– Has agreed to continue adequate contraception through 3 months following the second dose on Day 29.
– Is not currently breastfeeding.
And in its Exclusion Criteria:
– Is pregnant or breastfeeding.
Pfizer's clinical trial synopsis under Exclusion Criteria:
– Women who are pregnant or breastfeeding.
And yet, the FAQ websites of all 50 States still consider the Covid vaccines to be "safe" for the average person, and pregnant or breastfeeding women, while in Britain, as at June 2, 2021, 920 pregnant women lost their babies after getting "vaccinated"
… or this?
5. Some will argue that SARS-CoV2 was developed in a Gain-of-Function lab, and will back their claims with reports. Taiwan News even provides an interview as proof
At the outset of the crisis, given that the virus had not been isolated and that the symptoms mimic the flu, many considered Covid-19 to be an influenza variant. And, yes, people can die of influenza or the common cold. In fact, lungs of influenza patients can be more damagedthan those of Covid patients. And blood clotting is also common in flu patients.
Five prominent doctors discuss how the Covid jab is a bioweapon. Fauci has been grilled about his involvement, and naturally lied about it, even with evidence that his NIH did fund Gain-of-Function projects.
Even though there is every indication that this was not a naturally occurring virus, the primary consideration is not which is the safer vaccine or if the virus is natural or man-made or if Fauci lied, but whether experimental injections are warranted for a disease with a 99.9% survival rate when therapeutics have existed to control coronavirus-induced diseases; and, from a legal perspective, if crimes against humanity have been committed given there has been absolutely no informed consent.
Most rational people – of any political stripe – are for tried, true and tested (safe) vaccines when no therapeutics are available. I am NOT for experimental gene therapeutics backed by disastrous animal studies, tested on humans for the first time in history, especially when tried, true and tested therapeutics have existed. Humans should not be the guinea pigs.
The Israeli People Committee said of the Pfizer shot: There has never been a vaccine that has harmed as many people.
Corroborating this fact, on June 3/21 we learn from Children's Health Defense that research shows the COVID vaccine spike protein can travel from the injection site to accumulate in organs, and in tissues including the spleen, bone marrow, liver and in "high concentrations" in ovaries.
As at June 24/21, the FDA warns about but dismisses the adverse heart events in teenagers as "rare". This is the age group with the highest Covid survival rate of 99.998% taking on unnecessary risks.
Dr. Richard Fleming, with doctorate degrees in physics, medicine and law explains how the Spike Protein can cross the blood-brain barrier to cause Mad Cow Disease.
19 Doctors warn against taking the untested mRNA jab.
… and that
6. The CDC cannot produce a single study of vaccinated children v unvaccinated children.
Pfizer and Moderna used Relative Risk Reduction as evidence that their "vaccines-gene therapeutics" are 95.1% and 94.1% effective, respectively, for which they obtained EUA from the FDA. This analysisunderscores the fact that the Absolute Risk Reduction for both jabs is around 1%.
But the most egregious act of gross negligence is their failure to alert the public of the vaccine "shedding" unto the unvaccinated. Inside Pfizer's Clinical Protocols, in 8.3.5 to 8.3.5.3, Pfizer warns of Exposure During Pregnancy or Breastfeeding, and of Occupational Exposure. The FDA published a warning to the industry about shedding in 2015.
It gets worse. Both Pfizer and Moderna destroyed their clinical trials by vaccinating their control group, rendering the entire experiment meaningless.
Politicians? Mainstream media? Doctors? Health officials? Pundits? Bloggers? Surgeon General? Any General? Trump? Biden? Church leaders? Crickets.
12,791 deaths by Covid-19 injections are reported by the National Vaccine Information Center as at Aug. 6/21.
This low number is very suspect. US Attorney, Tom Renz, is going after the US Dept. HHS for reporting only 10,000 vaccination deaths, when the number is at minimum 45,000.
One-third of the deaths occurred within 48 hours. This is the count by age. Treatments to combat deaths by Covid Vaccines are now the new rage.
According to an healthcare data analyst expert specializing in healthcare fraud detection with 25 years experience, who is launching a lawsuit against the Sec. of US HHS, the death count within 3 days of a Covid-19 vaccination reported by VAERS is under-reported by a factor of 5.
And yet, the FDA contemplates approving the Pfizer/Moderna deadly jabs. A formal petition by patient advocates, clinicians, and scientists has been filed with the FDA to refrain from approving the jabs.
In the UK, there was an 85% increase of COVID cases among the vaccinated. The jab does NOT prevent infection or transmission by the infected, and by that standard the jab is technically not a vaccine.
Dr. Robert Malone, the inventor of the mRNA shot elaborates
7. The mRNA jab delivers a synthetic, inorganic molecule (medical device) that programs your cells to synthesize pathogens in the form of the spike protein that your immune system will constantly have to fight off for the rest of your life, according to experts such as Molecular Biologist & Immunologist, Professor Dolores Cahill. She explains. Fauci confirms. Dr. Lee Merritt reconfirms.
Others call it Information Therapy that hacks the software of life, according to Moderna's [Mode RNA] chief scientist. You essentially become a GMO. Dr. Sherri Tenpenny mapped eight mechanisms that can result in death by a Covid jab.
July 5/21. Just in. Now we learn lethal graphene oxide is contained in all vaccines, test swabs, and masks. This interview of Dr. Jane Ruby is a must watch
For the VACCINATED or Covid-infected there is now a ray of hope. A remedy has been discovered involving dandelions. Dandelion leaf extract.
8. We knew as early as October, 2020, that the mRNA jab did not prevent you from contracting Covid-19 or from transmitting it. Dr. Steve Hotze elaborates. Fauci confirmed it. But, in March 2021, seeing the weakness of this marketing angle, the CDC flip-flopped again, claiming the vaccinated could Not infect or be infected. Then the increasing number of breakthrough cases told a total different story..
The CDC once again changed its storyline on August 5/21: the vaccinated can contract and contaminate. But, bordering on criminal negligence and crimes against humanity is Walensky's assertion that people are not dying from the jab.
Of what use is a vaccine passport when the vaccinated are now being quarantined for carrying the Delta variant?
This badly scripted movie gets worse. As of June 30/21, there is a push to vaccinate in order to protect from the (attenuated) Delta variant, while there is every indication from hospitalization numbers the movie set is about to crash on them.
And, according to Bill Gates' own MSN Lifestyle, the mRNA jab has the potential of altering your DNA. He quotes a NCBI article. Don't expect this article to ever be dignified by a peer review. That will never happen. This is all part of the Hidden in Plain Sight, Catch Me If You Can playbook. When Moderna's chief scientist states that mRNA jabs hack the software of life (DNA), there should be no further discussion. Where no informed consent exists, a crime against humanity is committed.
In the US, over 197 million people have been jabbed at least once, as of August 14/21, or 59.4% of the population.
Using 1.0% (not the CDC's .014%, which is explained in #19) as the under-reporting metric, given that the most recent number of Covid-19 post-vaccination deaths stands at 1,587 (as at August 9/21), and given Dr. Birx's very liberal definition of mortality, we can estimate the current number of **post-vaccination Covid-19 deaths to be around 158700. An even more liberal estimate, if we used the CDC's .014% metric, would be 11,335,714.
According to an exasperated Dr. Peter McCullough, internist, cardiologist, epidemiologist, and Professor of Medicine at Texas A & M College of Medicine, it normally takes only 25-50 deaths to shut down a program.
Also, an imperfect "vaccination" can enhance the transmission of highly virulent pathogens, according to this NCBI article. A study on miceconcludes that the spike protein can cause lung damage.
Did you also know?
9. The CDC inflated the death rate for Covid-19 by instructing medical practitioners in its March 24/20 directive to ascribe the cause of death as Covid-19 for all deaths, irrespective if patients had tested positive for Covid-19 or if they had other comorbidities, on the mere assumption they could have been infected, so as to ramp up the fear. Here is the document. Doctors have publicly stated they are being pressured to mark Covid19 on death certificates. Here is a list:
This misstep by the CDC contravenes Federal Regulations, according to IPAK. Each Federal agency is required to submit a formal change proposal to the Federal Register followed by a 60-day public comment and peer-review process before the changes can be made.
The CDC contravened Federal Regulations once more when it issued a change in it's reporting rules.
From the CDC website:
"As of May 1/21, CDC transitioned from monitoring all reported vaccine breakthrough cases to focus on identifying and investigating only hospitalized or fatal cases due to any cause. This shift will help maximize the quality of the data collected on cases of greatest clinical and public health importance. Previous case counts, which were last updated on April 26/21, are available for reference only and will not be updated moving forward."
In other words, we are to believe that suddenly the vaccinated are dying from natural causes – not from the vaccines or Covid – and that hardly anyone is adversely affected by the "vaccines"), as the unvaccinated keep dying from Covid. Here Israeli data shows 3,133 people contracted Covid from the vaccinated.
On June 17/21, Fauci warned that the DELTA variant will cause more deaths in the unvaccinated while dismissing the fact that deaths by vaccines in 2021 have exceeded the combined number of vaccine deaths for the last 30 years by a factor of 30 if we compare death counts per 100 doses administered.
Biden pumps the same fear. And, Rochelle Walensky joins the chorus to get teens vaccinated, as she completely side steps the survival rate for that age group, but relies on spurious reports of increased hospital admissions.
The fact is that 60,000 Americans have been dying weekly, consistently, before and after the Covid scare. Influenza cases plummeted as Covid cases supposedly surged. What a coincidence.
Johns Hopkins PhD, Genevieve Briand, whose findings using CDC data sets shattered the prevailing narrative, was censored by her peers, most likely because both the CDC and Bill Gates fund Johns Hopkins, the venerable institution that oversees the Institute for Vaccine Safety (IVS), which simply toes the line. Of course, Bill Gates funds the CDC and a few other organizations, and maybe pays doctors to shut up.
10. The CDC later admitted that 94% of deaths had underlying conditions. That means, as at May 30/21, of the 591,265 deaths attributed to SARS-CoV-2, only 6% were actually caused directly by that virus, or 35,475 deaths.
Multiply the current number of Covid-19 deaths by 6% and divide that number by the current number of cases to give you the true case fatality rate, which is around 0.10%. In other words, 99.9% survive Covid-19.
11. When using the state population as the denominator, the death rate is even lower, ranging from 36 to 247 deaths per 100,000.
As at March 19/21, even with the doctored death numbers and flawed PCR tests, the CDC arrived at the following survival rates:
Ages 0-17 > 99.998%
Ages 18-49 > 99.95%
Ages 50-64 > 99.4%
Ages 65+ > 91%
On Nov. 24/20, the Office of the Chief Medical Officer, CDC Covid-19 Response submitted this report, which emphasizes high survival rates around the globe are a function of age. The younger fare better than the older.
NBC came up with similar numbers
12. In March of 2020, the CDC lumped Pneumonia, Influenza, and Covid-19 into a new epidemic it called PIC in order to inflate Covid deaths. Here are examples of inflated deaths along with inflated case numbers.
13. Hospitals are paid $13,000 for every Covid-19 admission, and $39,000 for every patient that is put on a ventilator, on average. More proof doctors and nurses have orders to place on ventilators patients who tested negative, effectively killing 88% of them.
---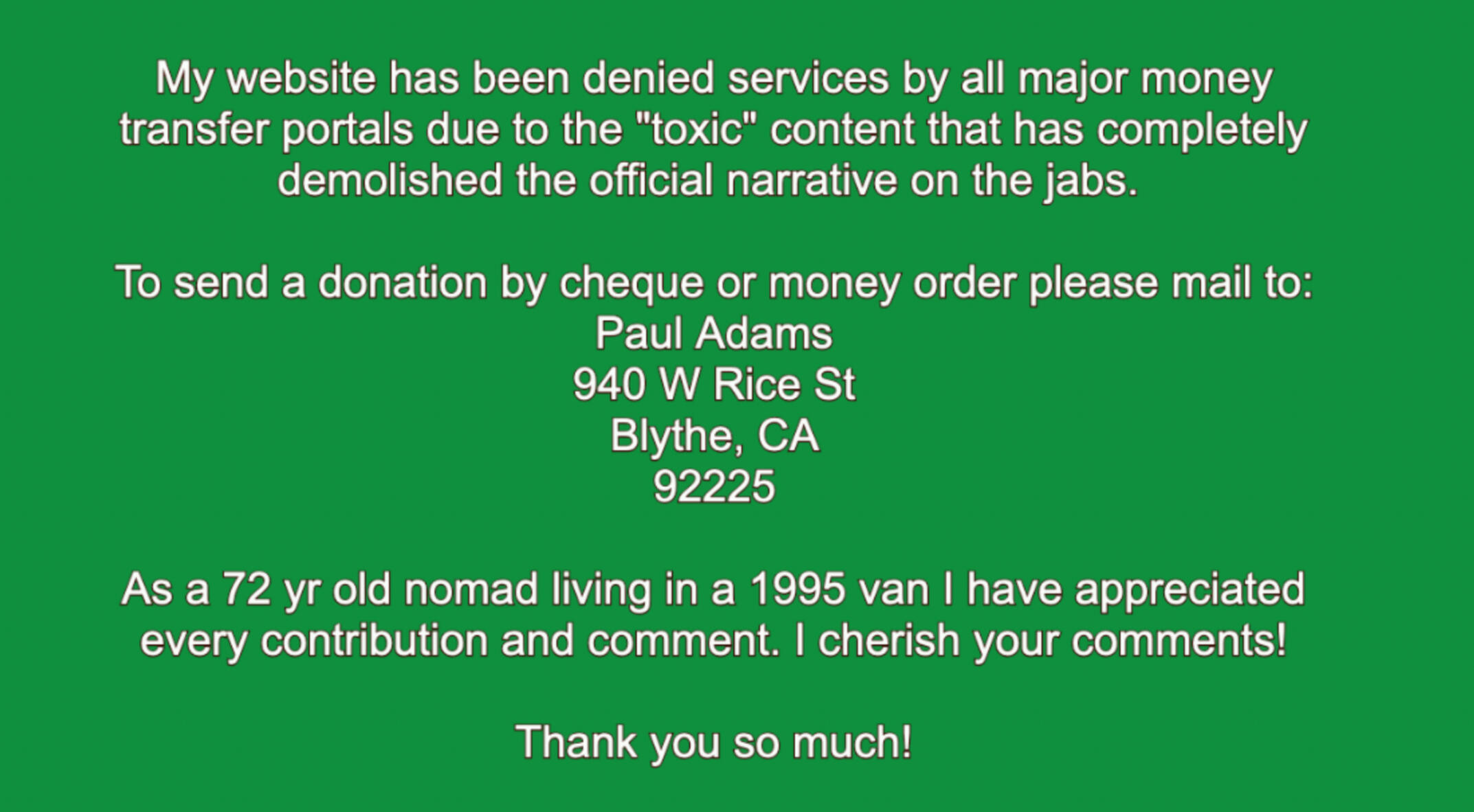 ---
Are you aware that…
14. The PCR tests do not detect SARS-CoV-2 particles, but particles from any number of viruses you might have contracted in the past, and that a lawsuit for crimes against humanity is being launched by a German attorney, Reiner Fuellmich, for this fraud. Even Fauci admitsPCR tests don't work. The WHO backs him up. In this CDC document, testing guidelines state that false negatives and positives are possible – page 39. The PCR test cannot rule out diseases caused by other bacterial or viral pathogens – page 40.
But most importantly, on page 42, SARS-CoV-2 was never isolated in the first instance: "Since no quantified virus isolates of the 2019-nCoV were available for CDC use at the time the test was developed and this study conducted, assays designed for detection of the 2019-nCoV RNA were tested with characterized stocks of in vitro transcribed full length RNA". We have the document
An internationally recognized expert in the areas of pharmacokinetics, biopharmaceutics, drug dissolution testing, analytical chemistry as related to characterization of pharmaceuticals, and bioavailability/bioequivalence, with over 30 yrs. experience, Dr. Saeed A. Qureshi, Ph.D., confirms that SARS-CoV-2 has not been isolated.
Several letters have been filed to various organizations under Freedom Of Information, requesting for evidence that SARS-CoV-2 was isolated. We're still waiting for proof.
The inventor of the PCR test, Nobel Prize winner for chemistry, Kary Mullis, explains, and former Vice President of Pfizer, Dr. Michael Yeadon, elaborates in this article. Here, Mullis takes Fauci apart.
A primer on PCR tests. A retraction letter by an international consortium of life-science scientists, admits PCR tests are flawed.
And, as of Dec. 21/21, the CDC will drop the REAL-TIME PCR TEST. But, it references the FDA's alternative methods. The Directive
Neither the CDC can provide samples of SARS-CoV-2, nor can Stanford and Cornell labs, and in a CNN interview Fauci said he was not getting tested as there is no need to test asymptomatic people. He reiteratesthat asymptomatic people have never been the driving force of a pandemic. Again, the WHO backs him up.
Seven Universities are suing the CDC for Fraud. While crafty companies roll out a test that can detect influenza as well as Covid-19.
The FDA declares the antibody tests are only effective in detecting antibodies that combat the virus itself, not the antibodies fighting the spike proteins. In other words, the only way to determine whether the injection has been successful is to wait and see if the subject survives.
WHO whistleblower, Dr. Astrid Stuckelberger, explains that the invasive swab in the PCR test is meant to wreak havoc with the Pineal gland of the brain and decrease longevity – skip to 5:07 – and that Johns Hopkins has a Pandemic Plan for 2025-2028 (skip to 10:10)
A Certified Federal Medical Investigator now discloses something Governors should have known all along. The nasal swabs are soaked in DNA-altering carcinogenic, Ethelyn Oxide, that also causes infertility.
Why the disclosure now and not in 2020, at the onset of the plandemic?
The CDC has played dumb about the high 37 to 40 cycle thresholds used for COVID PCR testing yielding 85-90% false positives. But, now, it readily accepts the lower threshold of 28 cycles for post-vaccine testing.
Fearmongering begins with the definition of a CASE. A CASE, in medical terms, implies a symptomatic sick person afflicted by a particular disease, eg Tuberculosis.
But for COVID a CASE is anyone who tested positive, and is asymptomatic or healthy or symptomatic and sick.
… or did it occur to you that
15. Let's be very clear: To not inform a person of salient material facts pertaining to a vaccination with the malicious intent to harm or with a complete disregard to a person's health (as was demonstrated in WW2 by the Nazi doctors experimenting on prisoners) constitutes a crime against humanity. The New England Journal of Medicine underscoresthat principle, as does the National Vaccine Information Center.
– Canadian Constitutional Attorney, Rocco Galati, served notice to Canadian Universities regarding vaccine mandates on July 31, 2021.
– Attorney Anna de Buisseret serves Notices of Liability for Crimes Against Humanity to UK Police.
– Active and Retired Canadian Police officers form POLICE ON GUARD in defense of the rights of citizens.
There are lawsuits in the works, naming Anthony Fauci as defendant, amongst others. Here's a partial list :
– Martin Ackermann, the head of the Swiss National Covid-19 Science Task Force and "any other parties to the crime," has been charged with intentionally and successfully frightening the population in accordance with Article 258 of the Criminal Code.
– a lawsuit against the CDC was filed for illegally withholding information under FOIA
– the WHO, along with government officials and PCR test manufacturers are being sued by German lawyer, Dr. Reiner Fuellmich. Here is an update, and how to participate in this class action suit
– nurses are suing a hospital CEO for Fabricated COVID-19 Tests
– California teachers are suing for being pressured to get an experimental vaccine, the [press release]
Canadian Constitutional Attorney, Rocco Galati, served notice to Canadian Universities regarding vaccine mandates on July 31, 2021.
Attorney Anna de Buisseret serves Notices of Liability for Crimes Against Humanity to UK Police. Active and Retired Canadian Police officers form POLICE ON GUARD in defense of the rights of citizens.
There are lawsuits in the works, naming Anthony Fauci as defendant, amongst others. Here's a partial list :
– California Students are suing the following:
CALIFORNIA STATE UNIVERSITY;
Joseph Castro, Acting Chancellor of the CALIFORNIA STATE UNIVERSITY SYSTEM, in his official and personal capacities;
Gayle E. Hutchinson, President of the CALIFORNIA STATE UNIVERSITY, Chico Campus, in her official and personal capacities;
Xavier Becerra, Secretary of the U.S . DEPARTMENT OF HEALTH AND HUMAN SERVICES, in his official and personal capacities;
Dr. Anthony Fauci, Director of the NATIONAL INSTITUTE OF ALLERGIES AND INFECTIOUS DISEASES, in his official and personal capacities;
Dr. Janet Woodcock, Acting Commissioner of the U.S. FOOD AND DRUG ADMINISTRATION, in her official and personal capacities;
U.S. DEPARTMENT OF HEALTH AND HUMAN SERVICES;
FOOD AND DRUG ADMINISTRATION;
CENTER FOR DISEASE CONTROL AND PREVENTION;
NATIONAL INSTITUTES OF HEALTH;
NATIONAL INSTITUTE OF ALLERGIES AND INFECTIOUS DISEASES;
and John and Jane Does I-V,
– the Government of Norway is facing a crimes against humanity lawsuit
– the UK Government will be facing a lawsuit for crimes against humanity
– Israelis are launching a crimes against humanity lawsuit against their own Government
– More than 100 staff sue Houston Methodist Hospital for mandating vaccines, and the judge rules against them
– the Government of British Columbia is being sued by the Canadian Society for the Advancement of Science in Public Policy
– the Canadian Government is facing a legal battle from the best Constitutional attorney, Rocco Galati, who wants to see Bill Gatesjailed.
– Florida is suing the Federal Government and the CDC – the largest US Health Care Union is fighting against mandatory vaccines
– doctors plead guilty to biotest fraud
– Human Rights attorney, Leigh Dundas, is going after California for trying to vaccinate children without parental consent. And just like thatshe forced Orange County to backdown from vaccine passports
– a British law firm is fighting against 'No Jab, No Pay, No Job'
– Canadian Police Officers are taking the Ontario Government to Court
– New Zealand's Prime Minister is facing criminal charges for homicide
"Homicide is the killing of a human being by another, directly or indirectly, by any means whatsoever"
and
"Anyone who aids, abets or otherwise incites homicide is a party to that homicide."
– All members of the European Parliament have been served with a notice of liability. Part of the notice reads:
"Furthermore, you may be held personally responsible for supporting CRIMES AGAINST HUMANITY, defined as acts that are purposely committed as part of a widespread or systematic policy, directed against civilians, committed in furtherance of state policy."
– a Crimes Against Humanity lawsuit was filed against the 'UK Government' and its 'Corrupt Scientific Advisors'
– In Greece, several lawyers are fighting against this new human rights violation under the pretext of the pandemic situation, one of whom, Mr. Nikos Antoniadis fights every day in the front lines.
– Australia, NSW Cops call out the Covid fraud
More lawsuits:
And we're just getting warmed up. If Israeli citizens have brought their government to the International Criminal Court for Crimes Against Humanity, alleging they are being coerced into taking an inadequately tested, experimental COVID injection by Pfizer, in contravention of the Nürnberg Code, then the citizens of any state (West Virginia comes to mind where young people are bribed with $100 to take the jab) have that same right and obligation. Certainly the university administrators mandating Covid vaccinations of 2.4 million students qualify for Nürnberg trials.
Certainly, Gavin Newsom qualifies, for bribing people with lotteries to get them vaccinated. Most definitely the President of the Philippines qualifies, for threatening to jail citizens who don't get vaccinated. Dr. Peter McCullough calls it Bio-Terrorism by Injection
According to the latest disclosures, as at June 6/21, of Fauci's emails, it is very clear that not only crimes of terrorism have been committed, but also Crimes Against Humanity
– The Fauci-Covid19 File published by Dr. David E. Martin is in the public domain.
The US Government introduced the Public Readiness and Emergency Preparedness Act which, among other things, tries to indemnify officials from lawsuits, except in the case of willful misconduct. Willfully not providing informed consent is egregious misconduct.
Attorney Thomas Renz – whose mentor is the Nuremberg Prosecutor and celebrated international lawyer and scholar, Henry T. King, Jr. – devised this sample consent form. The adverse events can also be found in the CDC/FDA document – pg 16 originally published in Oct/2020.
To think that Vaccine Clinic staff haven't a clue of what is in the jabs is cause for weekly tribunals where such miscreants are tried for crimes against humanity for not providing informed consent and summarily executed upon conviction.
PART 2
In Part 2, we explore:
Therapeutics prohibitions to make way for EUA vaccines
Medical Associations that have broken rank with the WHO
the endless flip-flopping by the CDC, WHO, and FDA
the inaccurate reporting of deaths and injuries by COVID "vaccines"
the states promoting vaccines as safe without mention of them being in clinical trials
how the vaccines were madehow the media was to play a rolethe variantsthe role of key politicians
the role of Bill Gatesthe underlying agenda of the WHO
the patenting of the Coronavirusthe edicts on masks by the WHOthe Immunization Agenda 2030 plus more
Source: https://nojabforme.info/#home
© Paul Adams. All rights reserved. Contents are in the public domain.